2009: October 07: Happy birthday to Marco Beltrami
HAPPY 43rd BIRTHDAY TO MARCO BELTRAMI.
2009: October 07: Two new projects announced: 13 and DON'T BE AFRAID OF THE DARK
According to most recent news, there are two new projects coming during next two years. The first is US remake of french crime thriller 13 Tzameti, which is being held by the director of original version that won Grand Jury Prize at Sundance film festival in 2006. The film should be released in 2010 but no release date has been specified so far. The other movie is also a remake of 1973 TV horror DON'T BE AFRAID OF THE DARK, which is produced by Guillermo del Toro who also co-wrote the script (with Matthew Robbins). The film is currently being shot in Australia and it is directed by newcomer Troy Nixey. The cast includes Guy Pearce and Katie Holmes. The film is expected to be released in 2011. In the meantime REPOSSESSION MAMBO (now re-titled as REPO MEN) will hit theatres on April 2nd, 2010.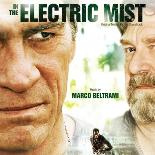 2009: September 09: New CD available: IN THE ELECTRICT MIST (limited edition of 1000 copies)
Marco Beltrami´s score for IN THE ELECTRIC MIST was released today by Varese Sarabande as one of the two albums in their new line of releases, which will include scores by Varese Sarabande´s regular composers that were written for films with limited distribution in the US. These albums will be available as limited CD editions and also on iTunes. US version of IN THE ELECTRIC MIST features even more music than the previous EU release available as iTunes exclusive. The CD is now available through various online retailers and more info is included here. The other score, which launched this series is John Debney´s score for based-on-true-events drama The Stoning of Soraya M. Bothalbums are limited to 1000 copies only.
2009: April 15: New download available: IN THE ELECTRIC MIST
Marco Beltrami's score for Bertrand Tavernier's thriller IN THE ELECTRIC MIST was finally released this week as download only release available eg throughbritish Amazon, where you can also check samples from all the cues included. Except the original score, the album also features three songs including the one used during the End Credits (check out in the audio section of this website), which was co-composed by Marco Beltrami. Tracklist and more information available below. On Cinezik you can read the interview with Bertrand Tavernier about his working experience with Marco Beltrami on IN THE ELECTRIC MIST (available in french only here), there is also a scoring sessions coverage about REPOSSESSION MAMBO available on here and Marco Beltrami is currently working on his new score for upcoming Wes Craven's new movie 25/8.
2009: March 19: Exclusive samples from KNOWING are now online
Check them out in audio section.
2009: March 03: KNOWING pre-order available at Varese Sarabande
You can already pre-order upcoming release of Marco Beltrami´s score for KNOWING on Varese Sarabande´s website . The CD includes approximately 65 minutes of score. The shipping starts on March 17th. Marco Beltrami will be signing "Knowing" album on Sat, March 28th at 2 pm at Dark Delicacies. For more information, visit www.darkdel.com.
2009: February 19: New CD announced: KNOWING
Varese Sarabande will release KNOWING score on March 17. The album is currently being prepared and shoud feature almost complete score as recorded in early January in Australia. This week, Marco Beltrami is recording his new score for the upcoming sci-fi REPOSSESSION MAMBO at The Newman Scoring Stage at 20th Century Fox. The film is directed by Miguel Sapochnik (The Dreamer) and the cast includes Jude Law, Forest Whitaker, Alice Braga and Liev Schreiber. The release date isn´t set yet but it might be expected during this summer.
2009: January 14: KNOWING completed; new samples online: MESRINE, MAX PAYNE, IN THE ELECTRIC MIST
New "dark, brooding orchestral score" for Alex Proyas´ upcoming KNOWING was recorded last week in Sydney. The film should be released at the end of March and soundtrack album is hopefully planned. In the meantime you can check newly added samples from last 3 projects: MESRINE, MAX PAYNE and exclusive samples from IN THE ELECTRIC MIST. The film is already floating around on the DVD, which should be officially released during March. There are no news regarding the film´s theatrical run in the United States but is should be released in selected countries all over Europe around the same time. There are also no news regarding possible soundtrack release of IN THE ELECTRIC MIST and according to co-composer Buck Sanders the film features only about 30-35 minutes of original music.