2010: December 20: DON'T BE AFRAID OF THE DARK delayed, theme demo added to audio section
Guillermo Del Toro-produced remake of 1973 televion horror movie, DON'T BE AFRAID OF THE DARK, was originally set for release January 21, 2011. The R-rated movie was now delayed by Miramax and there is no official release date set for the United States at this moment. The movie should still open in various territories such as Australia and Iceland (at least the release dates at IMDB hasn't been changed yet for these countries). Del Toro commented on the news: "It's been 13 years trying to make this movie, and we finally make it," he said of the movie about an estate whose basement is inhabited by devilish creatures. "It's quite shocking. I am trying to see the silver lining in this." One person close to the matter said that Disney didn't want to spend marketing money to release a picture that it wouldn't own. It originally was going to put out the movies on behalf of the new Miramax owners in exchange for a percentage of revenue. Instead, the person said, Filmyard will find a different distribution partner to put out "Don't Be Afraid of the Dark" after the acquisition closes -- probably sometime later next year.
2010: December 19: 13 trailer released, 13 and MY SOUL TO TAKE samples now online
The trailer for the remake of french thriller 13 has been released. In the meantime the film has been already screening in various places worldwide (such as Australia, Greece, Russia and Argentina among others) and DVD screener is also floating around. No release date has been set for US so far. Feel free to check the trailer below and first sample from 13 score in the Audio section that also features clips from MY SOUL TO TAKE as well.
2010: October 24: SCREAM 4 trailer released
enjoy! :)
2010: October 17: new project announced THE THING
Marco Beltrami is currently working on his score for upcoming reimagination of classic sci-fi THE THING. New version, directed by Matthijs van Heijningen Jr., is set at an Antarctica research site, the discovery of an alien craft leads to a confrontation between graduate student Kate Lloyd (Mary Elizabeth Winstead) and scientist Dr. Sander Halvorson (Ulrich Thomsen). While Dr. Halvorson keeps to his research, Kate partners with Sam Carter (Joel Edgerton), a helicopter pilot, to pursue the alien life form. The film is produced by Universal Pictures and release date has been set on April 29th, 2011.


2010: October 07: HAPPY BIRTHDAY TO MARCO BELTRAMI
2010: October 04: MY SOUL TO TAKE released as iTunes exclusive
Marco Beltrami's score for the latest Wes Craven movie was just released by Relativity Media as iTunes exclusive. There is still tiny chance it will be available as CD-R on demand as well, but lossy MP3 is all we can get for now. You can check samples from all of the cues on Amazon and also download the score there starting tomorrow. Tracklist:
1. Night of the Ripper (2:06)
2. Abel's Theme (2:23)
3. Seven Souls (1:47)
4. Bad for Tourism (1:19)
5. Condor Edifice (1:29)
6. Pray for our Souls (2:12)
7. Condor and Crew (2:29)
8. The Unveiling (2:41)

9. Fang Zone (2:44)
10. River's Edge (3:00)
11. Two Stiffs (2:43)
12. Not my Mother (2:45)
13. Ripping the Shreds (3:28)
14. The Ripper Talks (4:03)

Total Time: 35:09
2010: October 03: 'MUSIC TEAM' section completed, SCREAM 4 confirmed
Another section of this website is finally up and running. Regarding any other news, there is not too much to report. MY SOUL TO TAKE is opening next week and there is still no word about possible soundtrack/score album. The same case is JONAH HEX, which was mastered and prepared to be released. The master was delivered to Warner Bros. earlier this year, but no release has materialised since nor has been anounced so far. In the meantime, Wes Craven completed shooting of SCREAM 4, which should be released in early 2011 and according to first news Marco Beltrami should be back to provide the score for the movie, which is currently in early post-production.
2010: September 08: MY SOUL TO TAKE trailer finally released
Long delayed new movie from Wes Craven should be finally released on October 8th and you can watch the trailer below. No release of the score has been announced so far or was confirmed as in the works. A brief sample from this highly experimental score can be heard on the film's website .
2010: August 04: DON'T BE AFRAID OF THE DARK teaser trailer released
Enjoy :)
2010: August 02: Guestbook now available
New section added today. Feel free to post any comments related to the subject of this website or its content.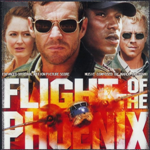 2010: August 01: FLIGHT OF THE PHOENIX expanded score finally available
In October 2004 Marco Beltrami recorded approx 107 minutes of original score for his first collaboration with director John Moore. The whole score was unfortunately slightly re-edited in the postproduction, used in different places than originally intended and also mixed so low that what was left in the movie, was almost unrecognizable in the final mix. Regular release of the score on Varese Sarabande records offered great 40-minute selection from one of the best Marco Beltrami's scores in stunning sound quality but it not only didn't include some major sequences from the movie but also omitted choir from the final piece of the score: Homeward. Also finale of the movie - Nomad Suprises - is finaly presented here in complete film version (3:28 compated to 3:04 on Varese album).
The bootleg that leaked recently is still very far from complete presentation of the whole score but with more than 20 minutes of additional material it offers welcomed addition to Marco Beltrami's discography... Tracklist coming soon and in the meantime you can already enjoy 3 brand new unreleased cues available in the aucio section.
2010: July 27: DON'T BE AFRAID OF THE DARK at ComicCon
Producer/Writer Guillermo del Toro and director Troy Nixey visited annual ComicCon in San Diego and discussed their upcoming remake of 70s TV horror DON'T BE AFRAID OF THE DARK. According to Del Toro, who co-wrote the movie with Matthew Robbins: " By agreement, we shot a movie with no sex, no gore or profanity, because we thought it was the way to avoid R. The MPAA came back and said, it didn't matter, that it would be rated R anyway, for 'pervasive scariness', which in a way is fantastic to hear. " The film will be released on Junuary 21st, 2010. No trailer has been released so far but you can at least watch interview with the director Troy Nixey:
2010: June 19: JONAH HEX released in theatres, score album details
JONAH HEX was released in theatres yesterday. Unfortunately there is currently no soundtrack album available but according to Marco Beltrami it is being worked on and should be released with DVD premiere of the movie later this year. No label has been announced so far and it isn't entirely clear if the pressed CD release is actually planned or the score will be released by Amazon CD-R on demand or on iTunes only.
2010: May 09: All sections up and running in the temp version
Finally at least temp versions of all pages included are online. There is still a lot to add and improve especially in relation to gallery and discography pages. If you have any additions to link, interviews or any other section of this site, please, don't hesitate to contact me .
2010: May 08: Audio section completed; JONAH HEX trailer
Just completed at least one section of the new version of this website. Audio samples now includes various clips from 45 projects (3 clips each) with exception of latest REPO MEN. Only one cue has been released on the CD and you can hear it here. In the meantime, JONAH HEX trailer was "released" a few weeks ago and you can watch it below:
2010: April 05: New project announced: JONAH HEX
According to most recent news Marco Beltrami recently took over scoring duties on upcoming Warner Bros' adaptation of DC comics JONAH HEX, which was originally scored by John Powell in colaboration with heavy metal band Mastodon. The film is directed by Jimmy Hayward (Horton hears a who?) and stars Megan Fox, John Malkovich, Michael Shannon and Josh Brolin in title role of Wild West bounty hunter who tracks a voodoo practitioner bent on liberating the South by raising an army of the undead. JONAH HEX wil be released on June 18, 2010.
2010: April 04: New videointerview with Marco and Buck; first samples from DON'T BE AFRAID OF THE DARK
Marco Beltrami and Buck Sanders are currently finishing their score for DON'T BE AFRAID OF THE DARK, which they are recording in Sydney, Australia later this month. You can hear the first brief snipets from the score in 5th part of Hikari Takano's interview with Marco and Buck, which is available here. There is also one more part of this extensive interview, which deals mostly with Marco and Buck's colaboration, which you can watch here.
2010: March 23: New CD available: REPO MEN (soundtrack album)
REPO MEN soundtrack is now available on CD and iTunes from Relativity Media. Unfortunately this release includes only a single score track by Marco Beltrami, with running time 2:28. There are currently no plans to release the score on its own. You can either buy the CD at Amazon or download it from iTunes.Few samples from the score are available on the film's official website .
2010: February 06: New interview, New project announced: THE SUNSET LIMITED
In the most recent interview for ScoreNotes.com Marco Beltrami and Buck Sanders not only discussed their recent projects but also mentioned the new one: THE SUNSET LIMITED based on a novel by Cormack McCarthy (No Country for Old Men), which is currently in the post-production. Tommy Lee Jones is directing this TV movie, which will air on HBO later this year. No release date has been announced so far.
2010: February 02: Marco Beltrami and Buck Sanders nominated for THE HURT LOCKER
Marco Beltrami and Buck Sanders were nominated in the Best Original Score cathegory for an Oscar for their score for THE HURT LOCKER. Lakeshore Records released the score album just a few weeks ago. Except the original soundtrack album now available through most of the stores (including about 31 minutes of original music), there is also a For Your Consideration album available as a pressed CD (featuring complete score running nearly 55 minutes). Except Oscar nominations Marco Beltrami was also nominated by International Film Music Critics Association for Best Original Score for Fantasy/Science Fiction film (KNOWING) and in the Best Original Score for horror/thriller (IN THE ELECTRICT MIST) cathegories. The winners will be announced on February 26th.