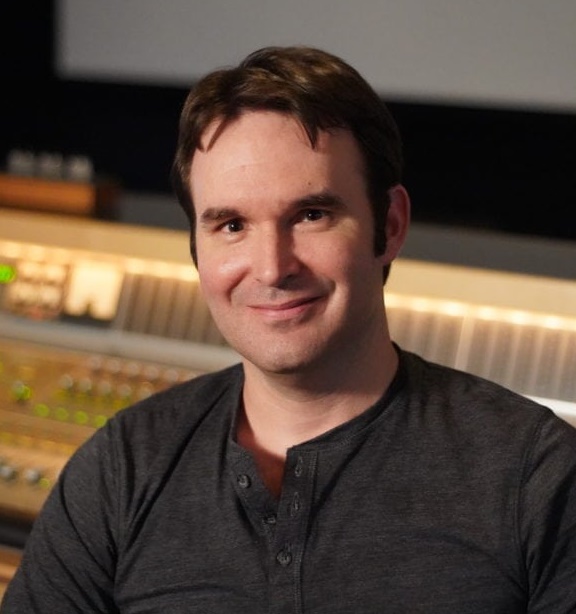 From the dark dramatic tension of World War Z, to the pulsing orchestral action of The Wolverine, Brandon Roberts' music can be found all over the film scoring world today. Surrounded by the eclectic musical scene of his hometown, Carmel, CA, Brandon developed his musical interests at a young age earning awards from Clint Eastwood and The Monterey Jazz Festival. In 1995 he began studies at the University of Southern California where he composed for many of the jazz ensembles. In addition, he began writing for orchestra and soon entered into the prestigious USC Scoring for Motion Pictures & Television graduate program. Here he studied with industry greats including Elmer Bernstein, David Raksin and Christopher Young.
Upon graduating from the University of Southern California, Brandon continued composing for films, television and albums in a wide range of styles. Composition projects include such large-scale feature films as Scream 4, The Wolverine, Warm Bodies, and World War Z. In addition, he has composed on several independent features including The Woman In Black, Warm Bodies, and The A-List.
Brandon's music can be found in acclaimed television shows as well including Battlestar Galactica, Terminator: The Sarah Connor Chronicles, V, and, most recently, AMC's Revolutionary War spy drama, TURN.
Most recently, Brandon has been regularly collaborating with Marco Beltrami (The Hurt Locker, 3:10 To Yuma) on such projects as The Drop (starring Tom Hardy), The Woman in Black 2: Angel of Death, the second season of AMC's, TURN, The Giver (starring Jeff Bridges/Meryl Streep), and the upcoming Fox release, Underwater.
Brandon currently resides in Los Angeles, CA.
COMPOSER CREDITS:
2023: Wail
2023: Untitled Pet Sematary Sequel
2023: On a Wing and a Prayer
2022: Pantheon (TV Series)
2022: Deep Water (additional)
2021: Without Remorse (additional)
2021: Fear Street Part 3: 1666 (additional)
2021: Fear Street Part 2: 1978
2021: Fear Street Part 1: 1994 (additional)
2021: A Quiet Place: Part II (additional)
2020: Black Box
2020: The Way I See It (documentary)
2020: Motherland: Fort Salem (TV Series)
2020: Underwater
2019: Twilight Zone (TV Series)
2019: Autism Goes to College (documentary)
2018: Unbroken: Path to Redemption
2018: Free Solo (additional)
2018: A Quiet Place (additional)
2017: Little Evil
2017: Buttercup (short)
2017: Mathilde (additional)
2017: The Snowman (additional)
2017: First They Killed My Father (additional)
2017: Logan (additional)
2016: The Axe Murderers of Villisca
2016: Ben-Hur (additional)
2016: The Shallows (additional)
2016: Gods of Egypt (additional)
2015: Turkey (short)
2015: The Fourth Door (TV Series)
2015: The Ataxian
2015: The A-List
2015: Hitman: Agent 47 (additional)
2015: Fantastic Four (additional)
2015: True Story (additional)
2015: The Gunman (additional)
2014: The Woman in Black 2: Angel of Death
2014: Seventh Son (additional)
2014: The Drop (additional)
2014: The Giver (additional)
2014: TURN: Washington's Spies (TV Series)
2013: RockBarnes: The Emperor in You
2013: The Wolverine (additional)
2013: World War Z (additional)
2013: A Good Day to Die Hard (additional)
2013: Warm Bodies (additional)
2012: Save Our Soul (short)
2012: Chasing Rabbits
2012: The Woman in Black (additional)
2012: Divergence (TV Series)
2011: Monstrosity (short)
2011: The Man in the Red Suite (short)
2011: BlackBoxTV (TV Series)
2011: Scream 4 (additional)
2010: V (TV Series) (additional)
2010: Human Target (TV Series, 3 episodes) (additional)
2009: Immrama (short)
2009: Harper's Globe (TV Series)
2009: The Alyson Stoner Project
2009: Trauma (TV Series, 6 episodes) (additional)
2009: Battlestar Galactica: The Plan (V) (additional)
2009: A Town Called Eureka (TV Series, 13 episodes) (additional)
2008: Texas Girl (short)
2008: Terminator: The Sarah Connor Chronicles (TV Series, 5 episodes) (additional)
2007: Entry Level
2007: Anna May Wong, Frosted Yellow Willows: Her Life, Times and Legend (additional)
2006: Keeper of the Myth (short)
2006: Sea of Fear
2006: The Utopian (short)
2004: The Thing about Sam (short)
2004: Wind (short)
2003: Back Up, Please (short)
2002: Hi, Frank!
2002: Phobic
2002: Virus
2002: Corner of the Eye (short)
2001: Trailer: The Movie! (short)
2001: When Opportunity Knocks (short)
2001: Small Shots (TV Series)
2001: Ashes (short)
2001: You Too Could Be a Winner! (short)
1999: Love, Death & Cars (short)
1997: A La Cart

ORCHESTRATIONS CREDITS:
2011: The Thing
2011: Hop
2010: Cats & Dogs: The Revenge of Kitty Galore
2010: Dark Void (VG)
2009: Empire State (TV)
2009: Caprica (TV Series Pilot)
2008: Battlestar Galactica (TV Series, 19 episodes)
2008: Pushing Daisies (TV Series, 22 episodes)
2008: Mesrine Part 2: Public Enemy Number 1
2008: Terminator: The Sarah Connor Chronicles (TV Series, 9 episodes)
2008: Rest Stop: Don't Look Back
2008: Impy's Wonderland
2008: Meet the Spartans
2007: Alvin and the Chipmunks
2007: The Simpsons Game (VG)
2007: The Comebacks
2006: SOCOM: U.S. Navy SEALs Combined Assault (VG)
2003: Beethoven's 5th
2001: Runners
td>