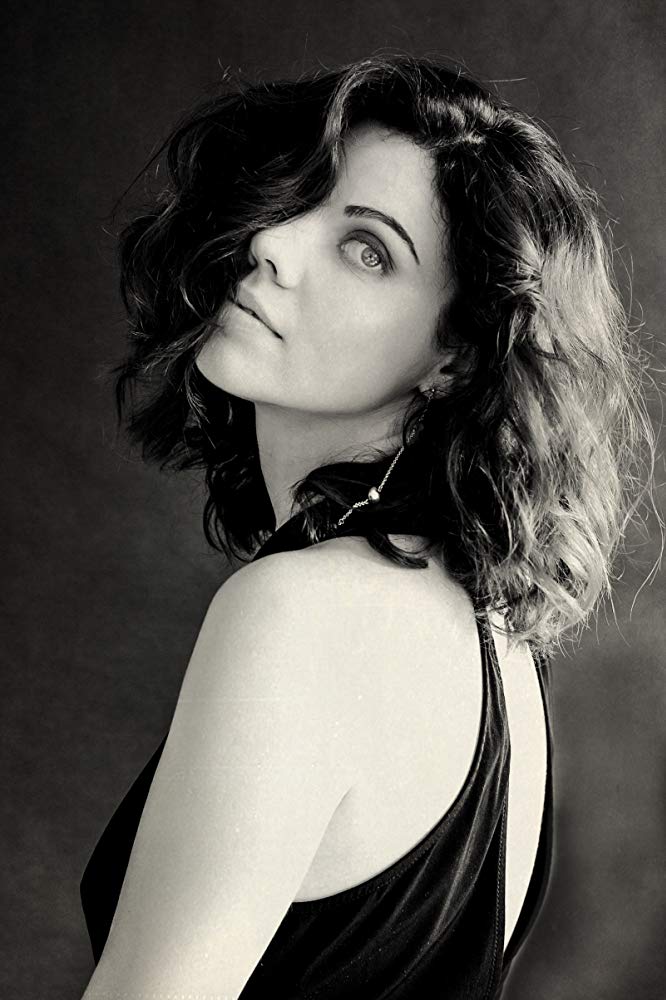 Anna Solovieva Drubich was born in Moscow. From an early age Anna was exposed to music and began piano lessons at the age of 8. Anna earned her Bachelor and Master's degrees at the Munich School for the Performing Arts (2002-2008) under the tutelage of Professor Franz Massinger. Anna has been very busy as a solo and chamber music performer giving concerts in Russia, Ukraine, France, Germany, Italy, Switzerland and Spain, among others. She is a recipient of several awards and prizes, including First Prize at the Moscow Beethoven Competition and the Mozart Prize at the Bremen International Piano Competition. Ms. Drubich is also a beneficiary of the Spivakov Foundation and Krainev Foundation scholarships.
In addition to her piano endeavors, Anna has been writing music, focusing on film composition. Her first project, in cooperation with Andrei Golovin, was the score to the film O Liubvi [About Love] (Mosfilm, Russia, 2002), which went on to receive the Best Music Award at the Russian National Film Festival Kinotavr. After this success Anna decided to pursue her studies in Film Composition at the Munich School for the Performing Arts, under the guidance of Prof. Enjott Schneider and is expected to graduate in July 2011. Concurrently with her studies, Anna participated in several film projects, including the Lange Nacht der Musik for which she wrote several pieces. In 2009 Anna was awarded the Special Prize at the Soundtrack Cologne Competition for her composition for the animated feature The Factory. Most recently, Anna completed the score to three major feature films: Anna Karenina, 2ASSA2, and Odnoklassniki [Classmates] (Mosfilm, Russia). All three films had their premieres in 2010.
Anna's work as composer has led her to being nominated and shortlisted for the Russian Film Academy Award NIKA. She is also the winner of the prestigious Triumph Award in Russia. At the present time Anna is working on several major projects in Russia, USA and Germany. Her diverse body of work can be heard on television, at the cinema and in the theatre and includes animated features, documentaries and plays. In addition to her music for the visual arts, Anna has been intensively involved in writing music for the concert hall. Several works, from sonatas for solo instruments to chamber music to orchestra pieces, were debuted by famous musicians - many of them friends and colleagues of Miss Drubich. These pieces have always enjoyed a warm and enthusiastic reception from the audience and positive response from the critics.
In the summer of 2010 Anna was chosen as one of 5 composers worldwide to spend a month in Aspen, Colorado, USA, studying and composing with major Hollywood composers Jeff Rona, David Newman and Jack Smalley. Anna's music has been performed and recorded by the American Academy of Conducting at Aspen Orchestra. From August 2011 to May 2012 Ms. Drubich was studying at the University of Southern California as part of the prestigious Scoring for Motion Pictures and Television program. Since than she worked on many short films, animations and video game projects. Her animation film "Yadda Yadda Yada" won 3rd Prize at the USC Science Animation Contest. Her recent animation short film "Semaforo" ("Stoplight") is selected at the top animation festivals of the world: ANNECY 2013 (France), "Chilemonos" in Chile and Student Academy Awards in USA.
COMPOSER CREDITS:
2023: Peterburgskaya Istoriya
2022: Jane
2022: Barbarian
2022: Stand by Me
2022: Navalny (documentary)
2021: Those who don't like Handel will be Roughly Handled (short)
2021: Empire V (additional music)
2021: Fear Street Part Three: 1666
2021: Fear Street Part Two: 1978 (additional music)
2021: Fear Street Part One: 1994 (additional music)
2021: Werewolves Within
2021: Spoiler (TV Series)
2021: Mashkiny Strashilki (TV Series)
2021: The Optimists: A Cuban Affair (TV Series)
2020: Hypnosis
2020: Bomba (TV Series)
2020: Shtetlers (documentary)
2019: Odessa
2019: Scary Stories to Tell in the Dark
2019: Cellophobia (short)
2019: Buratino (documentary)
2019: Extremely Wicked, Shockingly Evil and Vile (additional music)
2018: Na Parizh!
2018: Vorona (TV Series)
2018: Mein Papa, der Mönch (TV, documentary)
2018: The Factory
2018: Get Married or Die
2017: Russkie Evrei. Film Tretiy. Posle 1948 Goda (documentary)
2017: Bolshoy
2017: Olvidadizo (short)
2017: Buratino-15 (documentary)
2017: The Optimists (TV Series)
2017: Russian Jews: Film 1918-1948 (documentary)
2017: Mathilde (additional music)
2016: The Red Band Society (TV Series)
2016: Sneakers
2016: Russkie Evrei. Film Pervyy. Do Revolutssi (documentary)
2015: Business Hours: The Life and Death of a Bureaucrat (short)
2015: Turn: A Washington's Spies (TV Series, additional music)
2014: Mashkiny Strashilki (TV Series)
2014: 1864 (TV Series, additional music)
2014: Star
2013: The Mice Room
2013: Samáforo (short)
2013: The Collector's Gift (short)
2012: Masha's Spooky Stories (TV Series, 6 episodes)
2012: Totally Smooth (short)
2012: Vsyo Prosto
2012: A Plumber for Every Need (documentary)
2012: Yada, Yada, Yada... Stochastically Self-Similar Replication (short)
2011: The Promise (short)
2011: Mologa. Russkaya Atlantida (TV documentary)
2010: Marina (documentary short)
2010: Te, S Kotorymi ya... (TV Series)
2010: Odnoklassniki
2009: Anna Karenina (TV Series)
2008: 2-Assa-2

ORCHESTRATIONS / SCORE PRODUCER CREDITS:
2020: Murder to Mercy (documentary, score producer)
2019: College Behind Bars (orchestration)
2019: Berserk
2018: Then There Was Joe (score producer)
2018: United States
2016: Paras Eilos (short, score producer)

td>